Security and Home Automation – Garage Doors
Garage Doors
With your security system from Hyperion, powered by Alarm.com, your home gets connected in ways that other systems just can't offer. One of the optional features integrates remote control, alerts and automated closing for your garage doors. With this feature, you'll have added security and convenience – whether you're in your driveway or halfway around the world.
Control Access To Your Home From Anywhere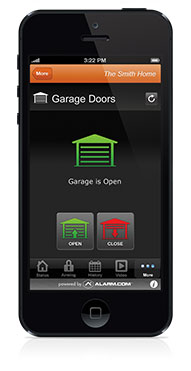 With your system powered by Alarm.com, you'll have the only interactive security platform that provides fully integrated control for your garage doors.  You can easily manage, monitor and control your garage doors through the best rated mobile app on iTunes.
This feature is fully integrated, powered by Alarm.com's Interactive Security and Home Automation system, which means you can manage your garage doors automatically and on-demand. You'll never have to wonder if you left the garage door open again.
Some of the features of this integration include:
-Automatically close the garage door when the security system is armed
-Receive notifications if the garage door has been left open or check in anytime to know if it is open or closed
-Use the Alarm.com mobile app to open or close the garage door from anywhere in the world
-Safety alert features audible sound and flashing light when garage door is being controlled remotely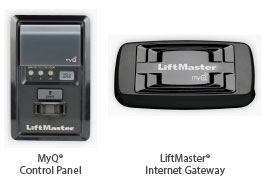 With Alarm.com and LiftMaster's exclusive partnership, it's easy to enable fully integrated control of your LiftMaster garage doors. Just upgrade your garage doors with these LiftMaster myQ Enabled Accessories, available for LiftMaster garage doors manufactured after 1998.

Talk to us about all the unique features that you can only find in systems powered by Alarm.com for your home or business. Hyperion Integrators has provided trusted Business and Home Security in Omaha since 1993 and Alarm.com offers the best technology for your business need or lifestyle.